100 million Americans – 100 million! – are affected by a loved one's alcohol or other drug (AOD) misuse. These are the moms, dads, husbands, wives, children, grandchildren, grandparents, boyfriends, girlfriends, and close friends.
AOD misuse ranges from routine binge drinking or heavy week-end drug use to dependence, commonly referred to as alcoholism or addiction. The impact on family and friends of a loved one's misuse is profound and primarily the result of the chronic stress they are under in their battle to "help" their loved one stop the misuse.
I'm Lisa Frederiksen, founder of BreakingTheCycles.com, and I refer to this impact as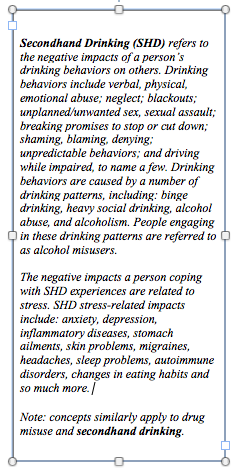 secondhand drinking | secondhand drugging. As a family member in long-term recovery from my secondhand drinking impacts, my work is focused on helping the family reclaim their lives in the midst of their loved one's substance misuse. One of the significant side benefits of the family getting help is their improved ability to better support their loved one seek and succeed in treatment and long term recovery.
Helping Families Understand Alcohol or Drug Abuse vs Alcoholism | Addiction
Often families and friends are at their wits end by the time they are visiting a site like this. Helping them understand what it is they may be dealing with (whether its substance abuse or addiction, for example) is a first step. To further your understanding and answer questions, I provide a variety of Family Consulting and Coaching Services.
Armed with this knowledge, families and the person with the substance misuse problem are better able to let go of some of the blame, shame, denial and anger that gets in the way of moving forward or making next step-decisions. It can also serve as an intervention of sorts, and if the person with the substance abuse problem is present, it often prompts them to take next steps to address their drinking or drug abuse problem.
To get a better sense of how I use simplified brain and science-based research in my consulting sessions with individuals and families, please watch my short, 10 minute video, "Alcoholism is a Disease and It's Not Alcohol Abuse."  Additionally, you may find the following articles helpful, as well:
What's at the Core of Addiction?
Shatter the Shame of Addiction
5 Reasons People Relapse After Years of Sobriety
Why to Addicts | Alcoholics Lie, Cheat and Steal
Treating Addiction Like Other Chronic Diseases – We Don't Make People Wait to Treat Their Heart Disease
I have recently written two short eBooks to further help families (and the person struggling with their substance misuse):
Quick Guide to Addiction Recovery: What Helps, What Doesn't 
Quick Guide to Secondhand Drinking: A Phenomenon That Affects Millions
To learn more, please call 650-362-3026 or email lisaf@BreakingTheCycles.com. To learn more about Lisa, click here.