Welcome to Breaking The Cycles – Changing the Conversations 
I'm Lisa. In 2003 one of my loved ones entered a residential treatment program for alcoholism. At the time, I was one angry, frustrated, resentful person who didn't realize this particular loved one was but one of several loved ones whose drinking (drinking behaviors) had profoundly affected me. My world was framed in black or white, truth or a lie, you're with me or you're not. I was labeled a codependent and an enabler and told alcoholism was a disease. I didn't buy the disease concept. Cancer was a disease – all they had to do was put down the bottle! I'd also been bulimic and anorexic for 12 years in my late teens and early adulthood and had learned to re-eat, so I figured "they" could learn to re-drink. And so I set out on a quest to prove alcoholism wasn't a disease, delving into the emerging 21st century brain and addiction-related science. It rocked my world and began my own recovery journey, recovery from what I call secondhand drinking, recovery that was independent of whether my loved ones ever stopped drinking.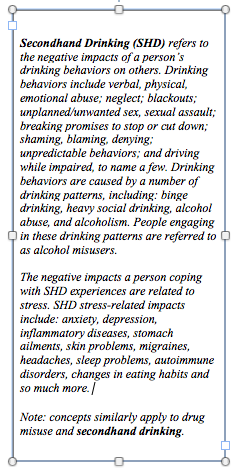 It's this journey and these scientific discoveries that I share here on BreakingTheCycles.com. My goal is to change, and in some cases simply start, the conversations on the range of topics covered in my blog categories so that together we can end the stigma, misinformation and shame that keep over 120 million Americans stuck fighting something they truly don't understand. This 120 million represents the 20+ million struggling with addiction and the 100 million family members and friends who love them and try desperately to help them stop. I'm especially interested in sharing the science. The science that explains the brain disease of addiction (aka substance use disorder), risk factors for developing the disease, the secondhand drinking | secondhand drugging (the family experience) stress connection, adverse childhood experiences (ACEs), trauma, dual diagnosis, mental disorders, brain development, brain healing, and so much more…
Why Science?
Every 4 minutes, someone in the U.S. dies from an overdose or alcohol-related cause. Additionally:
22 million Americans are suffering from a substance use disorder
23 million more are in recovery
1 in 3 households are directly impacted.
But we can drastically reduce these numbers! The science is now available to boldly, unequivocally state, addiction is a chronic, often relapsing brain disease that can be "prevented like this" and "treated like this." The science is now here to also help the 100 million Americans who struggle with Secondhand Drinking | Secondhand Drugging change how they cope and how they protect themselves from the negative impacts of a person's drinking (or drugging) behaviors. The following posts share some of my passion breaking the cycles by changing the conversations:
Treating Addiction Like Other Chronic Diseases – We Don't Make People Wait to Treat Their Heart Disease
Why Addicts Lie, Cheat and Steal from Those They Love the Most
5 Reasons People Relapse After Years of Sobriety
Shatter the Shame of Addiction
Mothers Who Love an Addict | Alcoholic
Secondhand Drinking Prevention
LGBT Pride Movement – Lessons For the Addiction Recovery Movement?
Even Dogs Experience Secondhand Drinking
Learn More About Lisa Frederiksen, Founder of BreakingTheCycles.com
I am the author of eleven books, five related to my work here, a national keynote speaker with over 25 years speaking experience, consultant, trainer and a Nationally Certified Family Recovery Coach (NCFRC) and Nationally Certified Addiction Recovery Coach (NCRC-1). Click here for summary highlights of what I've been doing.
How can you add your voice to BreakingTheCycles.com?
Comment on any one of the posts.
Be a guest author – experts and others willing to share their personal experiences as they relate to the issues raised on this blog are welcome. (Be sure to check the writer's guidelines on the Contact page and browse through the Blog Categories and previous articles before you submit.)
________________________________________________________
BreakingTheCycles.com is a WOSB
BreakingTheCycles.com was founded in 2008 as part of Lisa Frederiksen Associates, LLC.
Lisa Frederiksen Associates, LLC, is a self-certified WOSB (Women-Owned Small Business), with the U.S. Small Business Administration, DUNS: 829591275, CAGE: 5BCQ6, https://www.sam.gov/portal/public/SAM
WEBSITE COPYRIGHT and DISCLAIMER
©2008-2017, Lisa Frederiksen, BreakingTheCycles.com.  All data and information on this website is provided for informational purposes only. The information on this website is provided on an "as is" basis and is not designed or intended to constitute medical advice, nor is it intended to be used for diagnosis, treatment or referral services. You should consult your own personal physician and/or an addiction or mental health agency or specialist to determine the appropriateness of the information for your specific situation and before making any decision regarding treatment and/or medication. BreakingTheCycles.com does not endorse any content provided by any linked sites on this website, nor does it assume any responsibility for the interpretation or application of any information originating from such content. Additionally, the research on which this information is based is advancing rapidly so facts, resources and links cited may have changed. BreakingTheCycles.com shall have neither liability nor responsibility to any person or entity with respect to any injury, loss, errors, inaccuracies, omissions or damage caused or alleged to have been caused, directly or indirectly, by the information contained on this blog/website. Additionally, we reserve the right to correct any errors, inaccuracies or omissions or to update the information contained herein at anytime without prior notice.