It is my great pleasure to introduce Jake Parent – today's Face of Addiction Recovery, who has graciously agreed to share his story of his dependence on alcohol and the recovery journey he's taken.
Why share?
There is a great deal of confusion, stigma, shame and discrimination surrounding addiction and addiction treatment and recovery. Yet those who have the chronic, often relapsing brain disease of addiction and are in recovery live healthy, productive, engaged lives — the same kinds of lives as people who do not have this disease. But all the words and definitions and explanations in the world are not as powerful as the people themselves. To that end, we are grateful to the people in recovery who have decided to share their experiences so that we all may put a Face to Addiction Treatment and Recovery.
It is my pleasure to introduce Jake Parent, who has been in recovery since 2008, and is the author of Only the Devil Tells the Truth, a new novel about addiction, friendship, love, poverty, growing up, and the search for purpose.
How did your addiction start?
I was 13 when I first drank. From then on, I don't think I ever drank or used "normally."
I mean, there was certainly a progression in the frequency and amount I used (and of the type of substances), but from the first time I put something in my body to change the way I felt, the only thing I wanted was more. No amount of anything ever seemed to satisfy me, even when I was having a good time.
What was the turning point for you – what made you want to get sober?
It was 2006. I was 25 and had already been in the hospital (the year before) twice for pancreatitis. The first time, I stayed sober for three whole weeks. The second time it was only like five days.
Anyway, the first part of the year was disgusting. I was drinking an eighteen pack every day, and usually lots of Vodka to go with it. Along, of course, with just about any pill or powder I could get my hands on.
But, motivated by the threat of losing my then girlfriend, I didn't drink for six months.
And was miserable.
Each day I cringed and complained and more-or-less hated every atom in the universe. My anger was thick. It oozed from my pores and either pushed people away or made them miserable.
Well, unsurprisingly, I picked up the bottle again. And hit it hard. Beer was almost completely out, replaced by Jameson and vodka. All the time.
My boss started making comments (I still can't understand why I wasn't fired).
The woman I thought I was in love with could hardly stand being around me. And who could blame her? I hated her happiness, just like I hated everyone's happiness.
The weekend before Halloween, I was blackout drunk by 8 PM Friday.
I did some pathetic stuff – things I won't repeat here, in order to protect those involved. But, needless to say, when I awoke on the morning of October 30, 2006, it was to a world that I'd pushed away with all the resolve I could muster.
Luckily, the desperation and despair I found myself in was so deep and painful that my mind finally opened to the idea that maybe I didn't have all the answers.
The woman I was dating made it clear right away that she wanted nothing to do with me (we haven't spoken since).
For some blessed reason, however, this time I decided to try getting sober for myself.
With that tiny seed of hope planted, I attended my first recovery meeting. There I met people who knew me better than I knew myself. Their stories showed me that my weak and fuzzy vision of happiness was, in fact, a complete underestimation of life's possibilities.
What was your initial addiction recovery treatment?
I went through a couple bad days of alcohol detox, and almost went to the hospital. Actually I probably should have gone to the hospital. But my pride kept me from doing so. I remember holding a phone in my hand and crying because I wanted to call 9-1-1 to get help for the violent shakes I was feeling but couldn't bring myself to do it.
After a couple days like that, I started to feel a little bit better. I was able to find a treatment facility that was covered by the insurance I was lucky enough to have. They certainly pointed me in the right direction. But it wasn't until I went to my first 12 step meeting (at six days sober) that I really started on the right path. When I walked into that room, I knew I was in the right place.
Do you do anything differently, today?
I think recovery has a certain ebb and flow. For example, during the first few years, I went to meetings almost every day. Now I go with regularity, but definitely not every day.
As time has passed, I've learned to take the spiritual principles of service I've learned in recovery and use them in other aspects of my life.
I've had periods of happiness, sadness, anxiety, depression, pain, love, hardship, and success. And through it all, I've stayed sober by always making my recovery a central part of my identity.
What is your life like, now?
Life is for living.
Recovery has taught me that my dreams matter. That the fire inside me is something valuable. And that my passions can bring me a lot of happiness, if I pursue them in a way that helps build a better world.
Do you have anything you'd like to share with someone currently struggling with a substance abuse problem or an addiction? How about anything you'd like to share with their family or friends?
Unfortunately, one tough lesson I've learned in sobriety (mostly by seeing friends relapse) is that when people actively suffer from addiction, they are pretty walled off. People really won't change until they are ready.
But I think the best advice I could give such a person is to go to a 12 step meeting with an open heart and mind. Talk to the people there, especially those with a significant amount of sobriety. There are plenty of people in those rooms who are full of crap, but there are way more who sincerely want to help you. Find a person who you want to be like, and latch on to them. Watch them. Listen to them. Learn from them.
For friends and family, try to set a good example by the way you live your own life, and be there when the person is ready. However, it's really important that you don't enable the addict/alcoholic by giving them money, letting them stay in your home, etc. As hard as it can be to say no, I don't think that does anything but prolong the inevitable, and cause a lot of undue pain.
What is the best part about your recovery?
It feels almost cliché to say so, but the gifts of sobriety have blown away my wildest expectations.
First off, it has given me a sense of self that doesn't involve a driving need to take from the world. It allows me to live a life I feel good about. One where I (at least on my good days) pay attention to how my actions affect others. It has allowed me to finally develop some positive and mutually respectful relationships in my life.
I also went to community college (after dropping out of high school with no GED), eventually ending up at a university, getting two degrees, and even went on to get a masters.
I co-founded an orphanage in Kabul, Afghanistan, which now houses 17 boys.
I started my own marketing consulting business, giving me the chance to work with great people from around the world.
I found the perfect wife.
And recently I accomplished my long-held dream of publishing a novel. It's called Only the Devil Tells the Truth and is about a poor California teenager who falls into addiction. So far, people seem to really relate and draw strength from it.
Being able to empower people in this way is something that never crossed my mind when I was shaking on the floor that first day of sobriety.
Thank you so very much, Jake, for sharing your story, and CONGRATULATIONS on 8 years RECOVERY!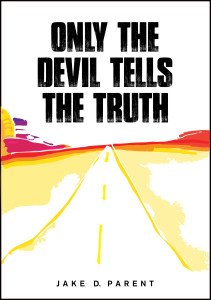 Jake is running a promotion from 12/17-24 on the Kindle version of his book, Only the Devil Tells the Truth. It will only be 99 cents during that time.
_______________________
You may also wish to "meet" others sharing their recovery stories with BreakingTheCycles.com by clicking on this link, Faces of Recovery.