More than 100 million Americans are affected by a loved one's addiction, a brain disease that is still so tightly shrouded in secrecy and shame, making intervention, treatment and recovery difficult to find and pursue.
These 100 million Americans are the children, parents, siblings, grandparents, husbands, wives, in-laws and significant others of those whose brain disease has changed them and in the course of trying to help, changed their families, as well.
Thankfully, there's an organization bringing the family voice to addiction and recovery – Change Addiction Now – United We C.A.N. 
Founded by ten women as a project of the Hub for Direct Community Action, a 501(c)3 non-profit organization, Change Addiction Now – United We C.A.N. aims to harness the enormous power of these 100 million family members to change the way addiction is treated, perceived, and legislated and to champion 21st Century research in the studies of brain, addiction, evidence-based treatment and evidence-based information for families.

To that end, please find today's guest post by Cindy Koumoutzis, Co-Founder of United We C.A.N., Regional Director, Ohio State Director and Chairperson of the second annual "Steps of Change" event on May 16. 
This event's objective is to raise awareness, not only about the devastating disease of addiction, but about it's devastating impacts on families, as well.
THOUSANDS EXPECTED TO "WALK A MILE IN MY SHOES" FOR ADDICTION AND RECOVERY SUPPORT by Cindy Koumoutzis
Families affected by drug addiction will participate in "Steps of Change" throughout the states to educate, empower and embrace those living with substance use disorder. They will bring attention to the shame and stigma associated with substance use disorder, while advocating for more evidence based treatment.
Each year, millions of people suffer from the disease of addiction and the majority of those who need treatment for do not receive it. Substance use disorders (SUD) are boundless; they affect every known race, demographic, and population regardless of existing socio-economic status. And statistics state that for each one affected by the disease, at least 5 family members are impacted. We know this number to be much higher.
Addiction is a brain disease. Scientists have defined the neuroscience, identified genetic components, developed effective medical treatments for substance use and alcohol disorder, and documented the chronic nature of this disorder with relapse risks and remission rates. Yet society's misunderstanding of addiction is profound. Being a mom whose daughter has the disease of addiction, I have found it is not recognized as a disease, but more so a choice. A choice leading to overcrowded jails used as "treatment facilities." I have found that Judges and parole officers make decisions regarding medications for their "offenders" with opioid use, promote inadequate 30 day treatment programs which only recycle the sick and federal disability laws do not consider the presence of severe SUD as sufficient criteria for receipt of disability benefits.
The shame and secrecy that blanket this disease of addiction is just as deadly as the disease itself. Stigma keeps families down, in, or away. Stigma takes away a family's rights. Stigma on an individual level is part of what comprises SUD within a family. Over the past eight years, I have felt hopeless, worthless, and ashamed. Those thoughts and feelings intensify when during a hushed conversation I am reminded that I did something wrong, I had poor parenting skills or my discipline was lacking. Divorce. Financial difficulties. Worked too much. Didn't work enough. Too many extra-curricular activities. Not enough. Never is it simply a disease.
Families are blamed for the choice of their child. We are quickly judged on our wrong behaviors. Enabling, Co-dependency and Leniency . And just as quickly told how to fix our child. Kick them out, let go, stop enabling, stop loving them to death and wait until they hit rock bottom. For many, this is death. No family should wait for this.
It is also interesting that our loved ones in recovery feel the need to defend the family due to previous shame and stigma. "I am in recovery. I came from a very good family. I had everything I needed. I was a great student and had lots of friends. There was a lot of love within my family and I had great times with my brothers and sisters. We were your average typical family."
And lastly, words matter. Diseases have symptoms; people live with and manage these symptoms and our language should reflect this reality. My daughter who lives with a SUD is referred to as an "addict" or worse, a "junkie" far more than a "patient "or someone who has the "disease of addiction." This wording conjures up a bad person who belongs in a jail cell, not someone worthy of receiving high quality medical care. Families and those living with a substance use disorder are boxed in by an outdated vocabulary that reflects the unfortunate view of individuals with SUD as being moral failures and criminals. At a time when SUD is finally beginning to come out of its darkness, now is the time to truly look at it through evidence based treatment — and that starts with stopping the shame, stigma and language. Only then can we help our children gain control over their illness and their lives and we as family members can begin to heal as well.
Yes, families impacted by substance use disorder face stigma and shame. We pay dearly for the disease of addiction. Financially, mentally, physically and most important, emotionally. And because of this, members of the national organization, Change Addiction Now (C.A.N.), are rallying across the country on Sunday May 16th at "Steps of Change" to help bring the family voice to addiction and recovery.
About Change Addiction Now – Steps of Change Event
State groups are holding Steps of Change events, which include a variety of activities including walks, runs, ceremonies, health fairs, and balloon releases. Each state's program is different. Most groups will stage "Walk a Mile in my Shoes," in which family members display a pair of shoes of those who continue to struggle or who have passed from the disease of addiction.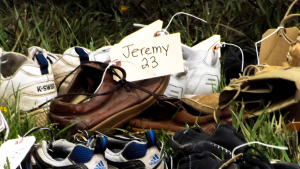 Steps of Change is a unified National effort to use the power of families affected by addiction to:
• Break the silence, the stigma and the shame
• Embrace evidence-based information and abandon outdated beliefs
• Show families affected by addiction that they are no longer alone
Each event is open to the public and everyone is encouraged to attend.
Change Addiction Now was started in 2014 by 10 mothers who met on Facebook. These women's families were affected by substance use disorder. The group incorporated as a 501c3 nonprofit and has already grown to more than 3,000 members in 18 state groups across the country
For more information, please visit our website or find us on Facebook. And to locate the Facebook page for your CAN state or one nearby, simply type CAN followed by the state.
Hope to see you on the steps – May 16th!