Being sober brings all sorts of changes – not the least of which is figuring out how to "live" your life sober and move away from your old friends and hang-outs – the ones that might trigger a relapse. For this very reason, I was thrilled to meet Antoine Nauleau, CEO and Founder of Sober, the first and soon to be released social networking app for people in recovery or people wanting to meet people who choose not to use substances. I invited Antoine to answer a series of questions about his new app. I'm sure you'll agree, this will be an incredible tool! You can also find Antoine on Facebook, Twitter, Pinterest or Google+.
Q. So how did you come up with the idea for this application?
A. My family comes from a technology background and since a young age, I have always been interested in Software. As I started to experience struggles in my life due to addiction, that entire part of my life was put on pause. Having started to live a life of recovery, I went back to my roots to follow my passion, and began working for a software company. During my time there, and being part of a recovery group, I thought to myself "what if I brought the social aspect of recovery to technology?" Hence Sober was born, and the idea has evolved from there.
Q. What are you trying to achieve with Sober?
A. Our mission statement is described as: "Addiction is one of the biggest struggles anyone can go through People die everyday, and don't receive a second chance at life. Our dream is to create a community of people that are interconnected at all times. We want to guarantee success by helping people in recovery meet, socialize, and reach out for support when it's needed." We try very hard to stay true to this.
Q. So having looked at the website, I saw that there is a dating aspect to the app, Is Sober a dating app then?
A. Sober is a recovery social network and is much more than just a dating app. With my experience, I tried to include all the features that one might want in a social network for people in recovery. Moreover, dating becomes an intricate part of recovery, with many issues as well as opportunities. The question of how and where to date is raised—previously many of us would meet a significant other at a bar or a night out. Since dating becomes such a big part of recovery, I believe that having a dating aspect to the app was crucial.
Q. What are some of the other features available on the application then?
A. As I mentioned, Sober is a social network, so one could expect to ultimately find all of the features present in a social network. For our first release of the application, we have included the features of tweeting, essentially posting to a news feed a short statement, letting all of your friends know about anything you want—going to this meeting tonight or fellowshipping at the billiard's club after the 8:00 pm meeting. We've also including the aspect of friends, where you can search for people, friend request them, message them, et cetera. In addition to this, a user has the option of posting their sobriety date and/or if they are available for sponsorship, aiding people to find friends with long term sobriety or a sponsor. We've also included a "Help" feature, which can put you in contact with different recovery institutions directly, and a hotline that you can call in times of distress.
Q. Can you go into more depth about the "Help" features?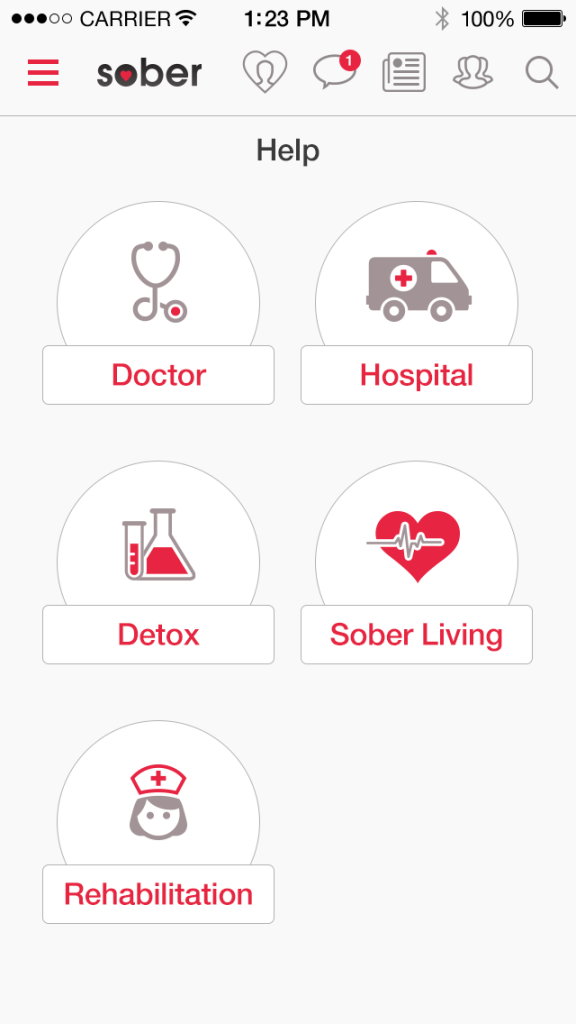 A. Sure, so during my experience in trying to get sober it was always a struggle to find the right place for some help. With our collective experiences at Sober, we have partnered with some of the best recovery institutions. When you access the help page there a few icons present, such as "Doctor", "Hospital", "Detox", "Rehabilitation", "Sober Living", "Other/Hotline". The user can click these icons, and with our location sensitive algorithm, the user will be matched with the nearest institution to them that we have chosen to partner with. The user will then be put into contact with this institution.
Q. What is this hotline feature you have, who runs it?
A. We are actually handling the hotline feature ourselves. You can expect to be put in contact with one of our employees directly or even myself, ready to help you. Sober is really trying to be in direct contact with its users and help as much as possible.
Q. Will people have to pay for the application?
A. The application is actually free!
Q. How do you envision this helping people? How about people in early recovery?
A. One of my biggest struggles in early recovery was to build a strong foundation of close friends and support. Having a strong support group is imperative of a successful recovery and it can sometimes take time to achieve this. We're hoping that Sober will help accelerate this process for people in early recover, ultimately helping them to integrate seamlessly into a recovery group. For people already with long-term sobriety, the application helps maintain relationships, socialize, meet new people, as well as gives you the opportunity to give back and help others in need.
Q. So if I understand this correctly, Sober is not only for recovering Alcoholics and Addicts then?
A. No, Sober is open to everyone. My belief is that addiction is addiction, in any shape or form, and anyone struggling with addiction experiences similar feelings, and therefore needs the same kind of support.
Q. Do you have to be part of a 12-Step meeting denomination?
A. This is another topic that hinders a lot of peoples' recovery. Some people do not manage to align with the principles and ideology of 12-Step programs, and therefore feel like they cannot get the help they need. There is not only one way to get sober, and we are trying to bring everyone together, whichever way you manage to recover.
Q. What about people who aren't in recovery, but want to meet people with a similar lifestyle – say someone who doesn't drink or focused on their career.
A. Sober is open to everyone! The common ideology is that people on the application are sober, but if you have some interest in meeting people in recovery, or that are living a spiritual lifestyle, the app is open to you too.
Q. Well thank you Antoine, when can we expect to see the application live?
A. The application is still in a prototype phase, but you can expect to see it live this coming February. In the mean time though, visit our website for updates and sign up for our waiting list to be one of the first people to receive the app once it's done!
Q. Are there any other sneak peeks that can you can spoil us with?
A. We definitely have some more features in mind, especially relating around meetings and finding them. I can't say too much, but it will be a neat feature.