Causes of Secondhand Drinking is Part 4 in this year's series of posts to celebrate April as Alcohol Awareness Month. In case you missed them, here are links to the first three:
As explained in the first post, this year's focus on Secondhand Drinking is to raise awareness about what happens to the 90 million Americans directly affected by Secondhand Drinking – the negative impacts of a person's drinking behaviors – and the roughly two to three times that number indirectly affected.
Drinking Behaviors  – One of the Causes of Secondhand Drinking
The obvious and most direct cause of SHD is drinking behaviors (like Adam's dad and Susan's husband, for example). And the obvious cause of drinking behaviors is drinking alcohol, of course. But this is where things usually go sideways. This is when people offer all sorts of excuses for the drinking behaviors. They say things like: "He's not an alcoholic!" or "He hadn't eaten all day." or "She's such a nag, she provoked him." Now here is the science of why none of that matters.
Ethanol Alcohol
Ethanol alcohol is a chemical in alcoholic beverages. It is what makes a person feel good when they drink alcohol. If a person drinks too much, this chemical changes how the brain works because it interrupts the electrical-chemical signaling process (remember the strand of holiday lights example). This is what then causes drinking behaviors.
Where the Liver Enters the Picture
The only way for the ethanol alcohol to leave the body is through the liver. Contrary to popular belief, a person cannot vomit, urinate or sweat it out.
ON AVERAGE, it takes enzymes in the liver about one hour to get rid of (metabolize) the ethanol alcohol in one standard drink. A standard drink means the amount of liquid contains the amount of ethanol alcohol. This is where the term "alcohol by volume" (ABV) comes into play.
Alcohol "Sitting" in the Brain Changes Behaviors
When a person drinks more alcohol than their liver can get rid of, the excess stays in the bloodstream and travels to body organs with lots of blood vessels. One such organ is the brain.
It "sits" in these organs waiting for its turn in the liver. While "sitting" in the brain, the alcohol chemically changes brain function – and not just in the limbic system!
How Much Is Too Much Depends on Your Brain?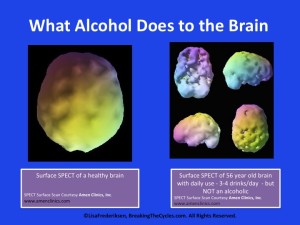 Too much alcohol for your brain and liver and you slur your words, can't think straight (as in think you are good to drive or insist on arguing some point), stumble, loose coordination, say mean, hurtful things, experience memory lapses or start a fight. This is all because the ethanol alcohol has chemically interrupted the way your brain works. Why keep saying, your brain?
The average of one hour to metabolize one standard drink can vary from one person to the next based on a number of variables. These variables include: gender, weight, stage of brain development (meaning teen brains handle alcohol differently) and whether taking medications. They also include: genetic differences, mental illness and stress. It is these variables that explain why one person drinking three drinks exhibits drinking behaviors and another person drinking the same three drinks does not.
Not only all of this, but because of the way the body processes alcohol (through the liver and not the digestive system), it means drinking water, eating a big meal or taking a walk around the block will not sober a person up. The only thing that does is time–an average of one hour per one standard drink. Six beers will take six hours.
But There is More – Pleasure / Reward Neural Networks
The reason ethanol alcohol makes a person feel good when they drink is because it taps the brain's pleasure/reward neural networks. These are another "design" feature of the limbic system. Their purpose to give humans the feeling of pleasure for the activities they do so they do them again. These networks require dopamine neurotransmitters (chemical messengers) and dopamine receptors. They are the reason we humans experience joy, happiness and feel-good feelings. Back in the day, this "joy" was basically the good feelings for doing survival-type activities, like eating food and having sex (so we would reproduce).
Today, it is these same neural networks that allow us to have fun at a party, love being in love or cheer wildly when our favorite football teams wins. Without them, we don't feel pleasure. If you drink in moderation (explained soon), the liver can keep up and nothing really changes. But if you drink more than that, you start changing neural networks throughout the brain. If you keep drinking heavily over time, the brain maps things associated with the activity as critical to survival because of the limbic system connection.
DISCLAIMER: The above explanation is not to excuse drinking behaviors. It is to help you protect yourself by understanding how they happen in the first place.
SHD Impacts and Behaviors – Another of the Causes of Secondhand Drinking
The less obvious, but no less harmful cause of SHD, is the behaviors of someone like Susan, Joanne and Adam, for example. These are the people whose own personal experiences with SHD changes their brains, which in turn can change their behaviors. The changing they experience is due in large part to the Fight-or-Flight Stress Response System (FFSRS) and the coping skills they map (details to be explained in next week's post). For now, it is important to understand that people coping with ongoing stress, like many of the 90 million Americans directly affected by SHD, often experience physical and mental health problems. These can include: sleep difficulties, migraines, anxiety, depression, stomach ailments, skin problems, obesity, and many other health conditions.
Their changed behaviors in turn spread SHD impacts to others. This is what happened to Adam's teacher and classmates. It is what happened to Susan's detective partner. And it is what happened to Joanne and Jackson's family members.
This ripple effect of SHD can also be as indirect as the taxes paid by citizens to cover the costs of alcohol-related crimes (law enforcement, courts, jails and probation). Or the increased alcohol and SHD related health care costs born by a company or agency. Or it can be the social costs of child abuse, domestic violence and suicide paid by a community and those most directly involved.
No One Sets Out To Cause Secondhand Drinking And No One Sets Out To Cope With It In Harmful Ways
This science and this common term can help those causing and those coping learn what it takes to change. Visit again next week to read more about this science in Part 5 of my Alcohol Awareness Month 2014 celebration!
_________________
©2014 Lisa Frederiksen – the above article shares portions from two upcoming books of mine. One is a book titled, Secondhand Drinking in Our Workplaces, Schools, Families and Communities.  The other is a very abbreviated version (from which this piece is taken) for a QuickSeries guide, titled, Secondhand Drinking: Prevention and Protection, to be published later this year for use by the Department of Veterans Affairs, Army, Navy, U.S. Forest Service and similar groups.
If you have questions or would like to talk further about secondhand drinking or my SHD consulting, training and presentation services for individuals, families and businesses, please give me a call at 650-362-3026 or email me at lisaf@BreakingTheCycles.com.
__________________________
In case you are reading this out of sequence, here are the links to all posts in this series: