Afraid they'll get mad if you say anything? Worried they'll dismiss it as not having eaten dinner or another rotten day at work? Have you had the same "conversation" so many times, you're sick of it all and have just about had it?
So what do you say to someone with a drinking problem?
Confirm for Yourself Whether Their Drinking "Really" is a Problem
This is often what keeps a person from talking to someone about their drinking – they're not really sure whether it is a "problem" and don't want to get sideways with that person by suggesting it is. One of my favorite resources for answering this question is the National Institute on Alcohol Abuse and Alcoholism (NIAAA)'s website, "Rethinking Drinking," and specifically this page on the site, "How Much is Too Much?" To give you a sneak preview, here is what is considered "normal" or "low-risk" drinking:
For women: no more than 7 standard drinks per week, with no more than 3 of the 7 on any one day.
For men: no more than 14 standard drinks per week, with no more than 4 of the 17 on any one day.
A standard drink is defined as: 5 ounces of table wine, 12 ounces of regular beer, 1.5 ounces of 80-proof hard liquor.
Thus, if the person you're conceded about drinks more that these limits, you're right to be concerned.
The World Health Organization offers an assessment that can easily and anonymously be completed, as well. It's called the Alcohol Use Disorders Test (AUDIT). Click here for the pdf download. The assessment is on page 17, and in America, Question 3 should be 4 or more drinks on one occasion for women and 5 or more for men (because drink sizes in America are larger than the world average standard drink size). Interpreting and scoring the AUDIT is found on pages 19-21. Please note – the AUDIT is designed and intended as a screening tool to be used by a medical practitioner, so for the layperson – it should be considered information only.
The Majority of People with a Drinking Problem are not Alcoholics
This is often a surprise to people. It's also a relief. In fact, according to NIAAA's Rethinking Drinking website (you'll get these results yourself if you anonymously answer the "What's Your Pattern?" Qs), the majority of American adults don't drink at all or always stay within low risk limits and of those who exceed these limits, the majority are considered alcohol abusers vs alcoholics. Here's a reprint of NIAAA's graphic: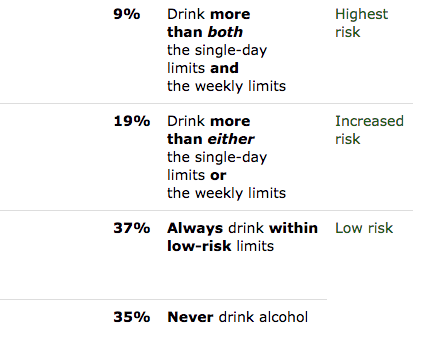 Notice I differentiated between alcohol abusers and alcoholics. The reason for this distinction is that "stopping" is different depending on which one it is. For the alcoholic, they have the brain disease of addiction and must stop drinking all together for it is the alcohol that triggers their brain disease. For the alcohol abuser, it is possible they can can learn to "re-drink" – to bring their drinking pattern within "low-risk" limits. And that's because they have not crossed the line from alcohol abuse to alcoholism. Check out this 10-minute video, "Alcoholism is a Disease and It's Not Alcohol Abuse." This post may also help as it sheds light on the "process" – how a person develops the brain disease of addiction (of which alcoholism is but one), "Want to Prevent Addiction? Assess Your Risk Factors."
Get Solid on Your Beliefs about the Problem
One of the ways we get tripped up when we try to have a conversations with someone about their drinking is we don't have the come-backs to the many retorts they throw at us, such as:
I hadn't eaten all day!
Having a couple of drinks a night is no big deal.
I only drink on the week-ends, and have I ever missed a day of work? No!
You drink! So what's the big deal?
I've written a short eBook, Crossing the Line From Alcohol Use to Abuse to Dependence (aka Alcoholism), to provide the answers that debunk the common myths and misperceptions about a variety of topics related to a person's drinking. The link I provided is for Amazon's Kindle version, but the eBook is available in just about every eReader format so check our yours. You may also wish to use this free app that will allow you to read the Kindle version on any device.
And, now…
What to Say to Someone With a Drinking Problem
Here's where it's helpful to start with WHAT NOT TO SAY:
You're a drunk!
Do you know how stupid you sounded last night!
Once again, you broke your promise. You broke YOUR PROMISE!!
If you loved me you'd stop!
Although these kinds of statements are totally normal, they generally stem from not understanding that when a person drinks more than their liver can process (rid the body of), the alcohol continues to change brain function, which is why the person behaves the way they do. It's not "them," it's alcohol changing brain function. Check out "Why BAC Can Keep Rising After a Person Stops Drinking" and "Understand Brain Maps | Change a Habit | Change Your Life."
Not only this, but these kinds of statements are of the blaming and shaming type and while they make you feel better (believe me, I know from my own experiences), they don't help the situation because the person with the drinking problem already feels ashamed and filled with self-loathing for why they can't stop at one or two.
Instead, try these possible entry statements to the conversation BUT ONLY when they are sober and you've asked to talk with them:
I don't know if you're aware how much your behaviors change when you drink, but last night, for example ____________.
I've been doing some googling trying to figure out if I should say anything about how you behave when you drink too much and found this great website, Rethinking Drinking. I'd really like you to do the anonymous assessment and take a look at the other information on the site.
I think you have alcoholism – I say this so boldly because I'd never understood what alcoholism was before, but now I've been doing some research, and it appears you may have it. I'd really like you to take this anonymous assessment created by the World Health Organization as a starter.
I've finally found a name for what happens to me when you behave the way you do while drinking – it's called secondhand drinking. I'm going to be learning a great deal more about this, but I wanted you to know that your drinking behaviors – the way you act when you drink too much – are causing real problems for me. I'm not sure what to do about them, but I'm also understanding that my old ways of talking about this don't work, either.
Know it doesn't have to all be done at once
We tend to want to get it ALL out there and then have a solution – an action plan – by the end of the conversation. But with these kinds of conversations, rarely is this possible. The better approach is to calmly state your concern and then ask if you can talk about some of your other observations and research findings in a day or two – and then be sure to set a date/time to talk. They may want to keep going, but likely they won't. And if they get defensive at any point, remind them you are doing this out of love and concern. You'd be doing the same thing if you were concerned about some other aspect of their health and wellbeing.
Remember – they are a person, first, and then a person with a drinking problem
It's so easy to see them as their problem because their drinking problem is causing drinking behaviors that in turn cause you problems. You'll want to be clear in your own mind that you are taking a stand against their drinking behaviors – against secondhand drinking (the negative impacts of their drinking behaviors on you and the quality of your life) – and not against them as a person.
And if it's a teen, don't wait
According to Medline Plus (a service of the U.S. National Library of Medicine National Institutes of Health) in their article, "Talking to your teen about drinking:"
About 1 in 5 teens are considered problem drinkers. This means they:
• Get drunk
• Have accidents related to drinking
• Get into trouble with the law, their family, friends, school, or dates because of their drinking
So I urge you to read the reminder of their article for what to say and do if you are concerned about a teen's drinking.
© 2014 Lisa Frederiksen