Coping with stress in addiction recovery, or secondhand drinking | drugging recovery, for that matter, can be key to avoiding relapse. Here are three powerful words - BREATHE, HAALT, THINK – that might be just what you need to give yourself a time out – that split second – to reel in your thoughts for a reality check before your react.
And why is that so important?
Addiction recovery is all about rewiring the brain – changing neural networks that having embedded as brain maps around the "things" a person does while active in their addiction. [For more on this concept, please read, "Understand Brain Maps | Change a Habit | Change Your Life."] Thus interrupting the maps around automatic reactions by giving the brain the split second it needs to re-route and get to a place from which rationale thought can be accessed is critical to recovery. This applies to the person recovering from addiction, or the person recovering from chronic stress, such as that associated with coping with secondhand drinking | drugging. [For more on changing automatic reactions, check out "Step Away From the Conflict – Change Where You Think," and "Courage to Change the Things I Can."]
Now back to these three simple, powerful words and how they can help…
BREATHE
When you get that niggling stress feeling, breathe. Breathe deeply for several moments. This brings much needed oxygen to the brain. [An interesting aside, the brain must have oxygen and glucose to survive. When we are under stress, we breathe more shallowly.]
HAAALT
The other thing to do is take a quick inventory, which is where HAALT comes in. It stands for Hungry, Angry, Anxious, Lonely, Tired. Any of these will send the brain into stress mode. So ask yourself, "Am I hungry. Have I eaten a nutrient-rich meal or snack, lately?" If not, do so – food provides glucose. And if the brain hasn't had its supply of glucose, it looks for it – causing stress. And remember, the healthier the glucose source, the better for brain health.
Next, ask yourself, "Am I Angry or Anxious?" Both of these are stress triggering emotions. If you take stalk of what's trigger either emotion before you react, you can THINK. Thinking moves you from the "reactionary" Limbic System to the "thinking" Cerebral Cortex.
Lonely is also a feeling. It can also cause stress, and we can often feel lonely in a relationship or crowd of friends. Not that you can necessarily do anything about feeling lonely at that moment, but you can recognize that lonely is the cause of how you're feeling – not whatever else you think it may be. This buys you time to think and take appropriate action vs reacting and perhaps making a bigger mistake that will further cause you stress.
And lastly, tired. Tired is a feeling that is telling the brain it needs sleep. If you're tired, try take a nap, if you can, or go to bed early that night. More importantly, know being tired is the cause of how you are feeling.
THINK
To wrap this up, THINK is just a word you can use to shout down the stressor. It buys you that split second of time you need to move your brain from the "reactionary" Limbic System to the "thinking" Cerebral Cortex. As Dr. Ratey suggests, stop yourself and ask, "Is it a Stick or a Snake?" If it's a snake, you may have an emergency. If it's  stick, no worries, you've got time to decide what to do about the stressful feeling.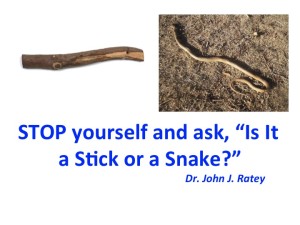 Remember BREATHE, HAALT, THINK. Just one of these words can buy you the time-out your brain needs to re-route your thinking.