There is no doubt America is in the midst of an opioid crisis. According to the Centers for Disease Control (CDC), "Opioids (including prescription opioids, heroin, and fentanyl) killed more than 33,000 people in 2015, more than any year on record. Nearly half of all opioid overdose deaths involve a prescription opioid."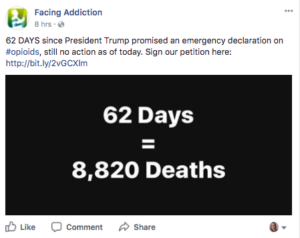 According to Facing Addiction, in the last 62 days (figure a/o 10.12.17) opioids have resulted in 8,820 deaths.
Today's guest author, Sam Costanzo, asked to share his article on the Zero Left campaign [zero left in the medicine cabinet], which is working to fight the opioid crisis. Sam is a lifelong New Hampshire resident with personal connections to several families lose loved ones to the opioid crisis in his state. He can be reached via email at Samc@vtldesign.com.
How the Zero Left Campaign is Fighting the Opioid Crisis by Sam Costanzo
Adam Moser was a fun loving and well liked young man with an exceptionally bright future ahead of him. He had great friends and family, a degree from Temple University and was such a skilled fisherman that he appeared on the National Geographic reality show "Wicked Tuna." Tragically, opioids quickly changed everything for the 27-year-old who overdosed on fentanyl in September of 2015. Unfortunately, his parents, Jim and Jeanne Moser, weren't even aware of his prescription pill habit until it was too late.
From 2000 to 2015 over 500,000 Americans died of a drug overdose. The CDC estimates that 91 Americans die every day from an opioid overdose. In 2015 opioids killed more over 33,000 people in the US, the same year Adam passed away. Since 1999 the number of overdose opioid deaths increased 300% with prescription opioids accounting for about half of the fatalities. In New Hampshire, Adam's home state, at one point in 2015 more than 13 million doses of Schedule II painkillers were dispensed at pharmacies. The opioid epidemic is severe and many NH families have suffered.
Zero Left for the Medicine Cabinet
Many parents aren't doing enough to educate their kids about the dangers of prescription medications, like opioids. Fortunately, children who understand the risks of prescription drug abuse are far less likely to develop dangerous habits. This is the reason Jim and Jeanne Moser started the Zero Left campaign. The campaign's goal is to educate the public on the dangers of opioids and to encourage the healthcare industry to better educate patients on the proper ways to store and dispose of pills.
"We used to keep our medicine in the kitchen," said Jim. "And I thought, how did we miss that? Then I realized, we never absorbed that information ourselves because we just didn't know."
How the Healthcare Industry Can Make a Difference
The healthcare industry is notorious for overprescribing medication, which has encouraged the opioid epidemic to grow. When unused medication is not disposed of properly, it can be found or given to people who consume the extra pills in an unsafe way. According to the CDC, every day, over 1,000 people are treated in emergency departments for misusing prescription opioids.
The Zero Left campaign is focused on creating useful materials for physicians to share with patients on the risks and side effects of the opioids they are prescribing. Safe disposal of the unneeded medicine is also a key component of the ZeroLeft Campaign. From limiting dosages to prescription-free relief, there are many other methods than taking opioids to kill pain that healthcare professionals can offer their patients. But combating the opioid epidemic starts with education and awareness, something the Mosers are hoping to spread in honor of their son Adam.
Jim and Jeanne hope the Zero Left campaign leads physicians to reconsider the amount and frequency in which they prescribe opioids. Healthcare professionals also need to take the time to talk to their patients before and after prescribing opioids. Simply asking "How many pills have you used so far?" in follow up appointments starts a conversation to inform patients about how they can correctly dispose of the pills they don't need.
Click here to download copies of the two-sided Zero Left campaign brochure.