We are in exciting times when it comes to addiction | codependency treatment and recovery.
Thanks to advancements in imaging technologies and the funding and collaborative research efforts of the Decade of the Brain (1990s) and the Decade of Discovery (2000s) -  likened to those of the decade of the 1960s when President Kennedy challenged the country to put a man on the moon before the end of the decade (and we did it!) – there's been an explosion in brain and addiction-related research and discovery. This research – these discoveries – is/are nothing short of profound. It's changing the conversations; it's breaking the cycles. It's changing how we view, understand and treat addiction and codependency.
I've been studying, writing and speaking about this research for the past decade and was thrilled to be a guest of Delray Recovery Center recently. They invited me to provide my 3-part, 6.5 CE credit, daylong program – Breaking The Cycles – to which they invited the addiction community of Delray Beach, Florida, and surrounds. A wide range of professionals attended: clinical directors, addiction counselors, MFTs, hynotherapists, equine therapists, eating disorder program specialists, psychologists, education program consultants, union and airline program representatives, social workers, and more. Throughout the day, we brainstormed how to use the concepts I presented in order to change the conversations – to enhance how we "do" addiction | codependency (reframed as secondhand drinking|drugging) treatment and recovery. Here are a few of their review comments:
"It was great to hear addiction reframed as a brain disease in a way that could be understood."
"I appreciated the alternate components we were offered. I like that it encouraged discussion and further thought as to what is involved in the cycle of addiction."
"I really enjoyed her compilation of some information I've heard and some new. Also, learning about the concept of second hand drinking/drugging. 
"I thought the most valuable aspect of the workshop was reinforcing the fact that drug users are people first. Focusing not only on the addicted individual but on the family as well."
"I loved Lisa's skilled presentation style. Very informative and easy to listen to."
"Lisa's authentic delivery of content was excellent and very enthusiastic."
________________________
To give you a better sense of what was discussed, please find the following program summaries:
Incorporating Brain And Addiction-Related Science To Enhance Treatment And Long-Term Recovery – Part 1

21st century brain and addiction-related science is revolutionizing our understanding of addiction, relevant risk factors for developing the disease, relapse, treatment and long-term recovery.  Many of these scientific advancements and discoveries have occurred in the recent 10 -15 years. Most of them are due in large part to improvements in imaging technologies, such as PET, SPECT, and fMRI, and the collaborative efforts and funding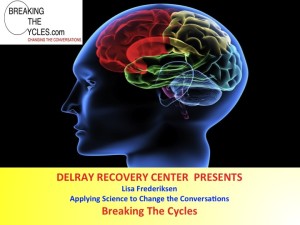 opportunities that were the result of the Decade of the Brain (the 1990s) and the Decade of Discovery (the 2000s). These technologies and opportunities make it possible for scientists and medical professionals to study the human brain in action, over time, under the influence, after injury, during mental illness (such as anxiety, depression, PTSD), before and after treatment or medications for addiction cravings or mental illness and after engaging in brain health improvement activities, such as nutrition, aerobic exercise, adequate sleep, mindfulness stress-reducing activities and/or therapies for underlying contributing factors.
It is this science that is attention grabbing and results in youth and adults in treatment to harden their commitment to recovery because it's generally never been heard before or at least not in the context described in this program. It is this science – solid facts – that is giving people of all ages, when tailored properly, the "ah-ha" information they've needed – the why and how – to treat their addiction for what it is – a chronic, often relapsing, but treatable, brain disease, to deal with stress differently, to heal | re-wire their brains and to adopt proactive measures to protect their brains to insure long-term recovery. It is this science, that when incorporated in Family Programs, helps family members and friends break through their denial, let go of some of their anger and resentments, recognize recovery will take time and be more open to doing what it is they need to do to help themselves, which in turn helps their loved one succeed in recovery. This, in turn, paves the way for their desire to actively participate in creating family continuing care plans – Part 3.

Reframing Co-Dependency as Secondhand Drinking | Drugging – Part 2, Addiction | Codependency Treatment and Recovery
In the world of addiction treatment and recovery, we often refer to family members and friends of our addict/alcoholic clients as "co-dependents." But it is a concept that does not make sense to those new to recovery terms and concepts and is often dismissed as "not applicable to me." It is at that moment we lose valuable opportunities to heal the family member and in that healing to help them better help their loved one succeed in long-term recovery. When reframed as secondhand drinking or secondhand drugging, we see an attitudinal shift that can change a family member's perspective and willingness to participate in the recovery process.
Secondhand Drinking (SHD) is term to describe the impacts on the person who is on the receiving end of another person's drinking behaviors. Drinking behaviors include: drunken arguments; crazy, convoluted accusations; verbal, physical or emotional abuse; neglect; driving while impaired, riding in a car with an impaired driver; unprotected, unwanted, unplanned sex, sexual assault; and blackouts. Secondhand Drugging (SHD) similarly is a term to describe the impacts on the person on the receiving end of another person's drug misuse behaviors.
Secondhand drinking | drugging (SHD) can forever alter people's lives. This is especially true if they are the family member or close friend, who, over the course of their ongoing exposure to SHD, become victims, suffering their own consequential physical and emotional impairments. These are due to the brain changes caused by the chronic activation of the fight-or-flight stress response system, a system that engages when confronted with stress – danger – fear – anxiety. As a result of these brain and physical changes, family members and close friends repeatedly exposed to SHD often suffer anxiety, depression, stomach ailments, skin problems, obesity, sleep difficulties, migraines and a whole host of other conditions. They experience quality-of-life changes that are beyond a "healthy" person's comprehension.
Helping family members and clients understand SHD and the impacts of the chronic activation of the fight-or-flight stress response system, as well as the impacts of SHD on children in the family and the role it plays in their developing their own substance misuse problem, helps all concerned better appreciate what the family needs and can expect from the client and what the client needs and can expect from the family, which can then be incorporated in a family continuing care plan (Part 3).
Continuing Care – The Third Phase Of Addiction Treatment And Recovery – Part 3
There is the perception that after detox, a 28-day residential program, or an intensive outpatient treatment program that "all is well" and life can go back to "normal." What is often missing is the understanding that addiction, like other diseases, requires the 3-stage, disease management approach to treatment: detox/stabilization, acute care/rehab and continuing care. It is the latter – a comprehensive continuing care and follow-up plan that is often missing in addiction treatment (random drug testing and "go to 12-step meetings," for example, is generally not an adequate continuing care plan). According to the ASAM's 2009 Principles of Addiction Medicine Fourth Edition, "…effective treatment attends to multiple needs of each individual, not just his or her alcohol or drug use. To be effective, treatment must address any associated medical, psychologic, social, vocational, legal problem, and environmental problems" (ASAM, Principles…, p. 389). Additionally, the Principles cite one of the key components of "the best treatment programs" is "continuing care" (ASAM, Principles…, p. 351).
Perhaps it's illuminating to think of it this way: disease, by its simplest definition, is something that changes cells in a negative way. Addiction changes cells in the brain – the organ that controls everything we think, feel, say and do. With addiction treatment, we are healing cells in the brain and rewiring neural circuitry that was changed by those changed cells. This takes time and must be customized to meet an individual's specific needs – there is no one-size-fits all addiction treatment. Fully treating the brain for its optimum success in long-term recovery can be more successful with a detailed, step-by-step plan of action and follow-up – in other words, a written Continuing Care Plan.
Not only is this important for the individual in recovery from addiction, it is important for the family as a whole if the client is continuing in familial relationships that existed before rehab because addiction is a family disease. Continuing Care Plans can be created individually, but if family is to be part of long-term recovery, it is best if they are included as well.
To close…
It's such an exciting time to be in this field. And, as I stated, Delray Recovery Center's hosting of this event was a remarkable opportunity to meet with so many professionals to brainstorm these concepts and have them share what they are doing in this regard or how they might use what they'd heard in their own practices.
When we recall what it was like to:
watch three men in a space capsule blast through the earth's atmosphere, two of them to land on the moon while the third one did lunar orbits, the two to get out of the moon landing capsule, speak so we could hear them on our TVs and radios at home, have them get back in the lunar landing capsule, lift off the moon and reconnect with the orbiting capsule, re-enter the earth's atmosphere, land in the Pacific Ocean and walk away
…all at a time when a simple computer required about three living-rooms of space – we get some idea of the times we are in with regards to addiction | codependency treatment and recovery.
As Armstrong said when he stepped onto the moon's surface, "one small step for man, one giant leap for mankind," we are in that giant leap for addiction and secondhand drinking|drugging treatment and recovery.