I had the pleasure of sitting down with Tim Cheney, co-founder of Chooper's Guide, the internet's most comprehensive substance abuse treatment, prevention and intervention resource directory, to conduct an interview with Michael Herbert, CAC, CASC, ICADC at Caron Renaissance Treatment Center in Boca Raton, Florida. We wanted to talk with Michael about his 155 mile marathon through the Sahara Desert and his plans for a similar marathon – the Jordan 2012. To give you a sense of what these marathons are about, the following was Michael's answer to Tim's question, "Describe this [the Sahara Desert] race – what was it like?"
It is called the Sahara Race and is a seven-day event, covering 155 miles, through the Sahara Desert (Egypt) in temperatures that reach as high as 50°C / 122°F. It is a self-supported race, meaning runners carry all of their food, clothing and equipment (water is replenished at Race checkpoints) on their backs. This race is one of the 4 Deserts, named by TIME magazine as one of the Top 10 Endurance Competitions in the world.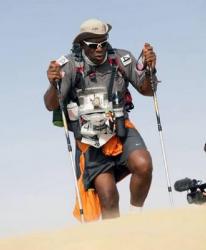 It was such an interesting interview and a powerful story of recovery, strength, hope and courage. This photo provides a preview; click here to read the interview.
You can also follow Michael on Facebook as he prepares for the Jordon 2012 and learn more about the race, itself, at Racing The Planet.